Hello fellow crafters! I am Kessa from Kessa In Stitches, a (mostly) knitting blog. I've been invited by Nat of Made In Home to talk about this month's theme: Toffee.
I believe that most of us (including myself) were pretty stumped by the theme when we first heard the theme. Possibly distracted by the idea of chucking down boxes of the yummy candy, rather than crafting something inspired by it.... Or perhaps that was just me. ;) But once I got started brainstorming, the ideas just kept flowing! One of the most obvious way to analyse this month's theme is by the colour. Because toffee has such a wide range of tone (from reddish, to yellowish, to brownish) around a neutral colour that pairs beautifully with many other trending colours (white, black, turquoise, coral, navy, red, etc) it makes things so much easier.
The next thing I considered was the medium. There is a surprising variety of fabrics that looks wonderful in toffee colour:
Tulle.
Have you heard? Tulle is back on the scene. As a rather girly-girl personally, I'm delighted! And as this fashion blogger have shown, there are ways to wear tulle skirts without flouncing around. Personally, I think it will make a perfect combination with a slouchy handknit sweater! Interested in trying your hands at sewing a tulle skirt? Try this tutorial here.
If you feel out of place wearing tulle, how about a little flower brooch? Perhaps something along the line of these precious looking ones here: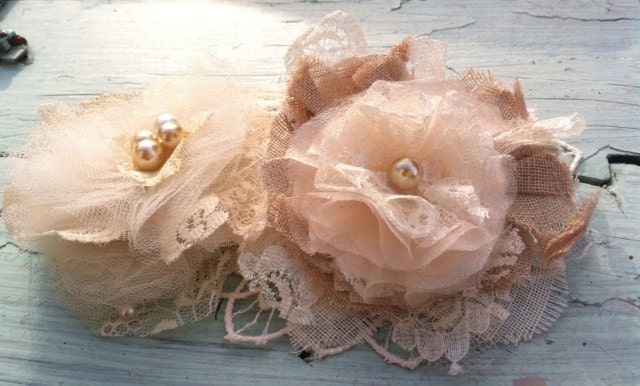 Source Or a sweet little dress for a little girl in your life?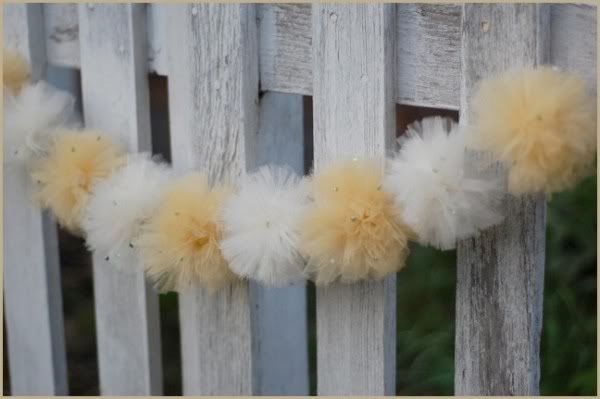 Not a fan of tulle? Toffee looks great in other fabrics as well:
A toffee coloured garment will make a wonderful addition to the wardrobe with Autumn just around the corner.
Which brings us to the second medium: Leather/suede.
Not exactly made with suede but the fabric has a suede-like finish. I have made a tutorial for some easy flowy skirt and this dress/long skirt was sewn based on that tutorial.
For some reason, toffee and leather brings to mind a well-loved, well-used leather-bound book. Well, how about making one to love and use?
Another medium that looks great in toffee: Burlap.
I have glued some burlap fabric to old glass jars and tied some twine around it. These are made for a friend's wedding. On the night of the wedding, they will be filled with little bunches of Baby's Breath flowers for romantic but inexpensive table centerpieces.
If you're not a fan of fabric crafts, perhaps decoupage?
Here I have decoupaged a thrifted wooden box, covering it with pages from a thrifted Finnish storybook and dabbed toffee-coloured wood stain over to give it a nice vintage/aged look. A thin layer of varnish keeps it clean and fresh-looking. This was a money box for another friend's wedding, hence the slot. But after making and gifting it to my friend, I have decided there is going to be at least another one (without a slot) in the near future!
Or some beading?
This bracelet features pink-metallic brown donut-beads that reminds me of crunchy toffee.
All this research and brainstorming about toffee is not without its repercussions. ;) I whipped up some caramel (which I like to think of as liquid toffee), some for a friend and some for myself.
As a knitter, I have also been working on some toffee-inspired knitting projects this month...
These are actually designs I'm working on at the moment. They are yet to be finished, but I have 4 more days!.. Though it is highly unlikely I will finish these in time.
But all is not lost. The main craft I had chosen, and completed, is actually..... *drumroll*...
Dyeing.
Some cashmere taking a nice long hot bath.
These are what I ended up with.
The toffee-inspired colours, clockwise from top left: Light Tan, 50g of Angora/Merino/Cashmere blend lace-weight yarn, Pinkish brown, 50g of Angora/Merino/Cashmere blend lace-weight yarn, Toffee Apple, 50g of 100% Silk lace-weight yarn, Toffee, 40g of 100% Mongolian cashmere lace-weight yarn.
And this is the end of my post. I hope you are inspired/have enjoyed this post and look forward to seeing everyone else's toffee-inspired projects!