In our pre-baby waiting hours, we dreamt up a new challenge open to all crafters – not just quilters, knitters or else. A theme would be set for all to interpret in their choice of crafty weapons.
There is a
blog
, there is a button, and there are two lovely (huh huh) organisers with wild ideas about themes.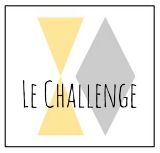 On the 15th of every month, we set a theme for all crafters to interpret in their choice of crafty weapons. There might be projects involving painting, quilting, cross-stitching, crochet, knitting … with one common theme.
The one you feel fits best the theme. If you have made it with your little hands, it qualifies for entry.
How much interpretation am I allowed to?
As much as you want, although try to explain how you interpreted the theme if it is not obvious.
Do I need a blog to enter?
You don't. We will be using the Inlinkz link so you can link to a blog post or you can add a picture from Flickr or IG. It is of course fun to share more information about your projects to other participants, try to give a description and tell us why it fits the theme. Please include a link to the le challenge blog in your blog post or Flickr description or tag your IG photo #lechallenge
Please link to a specific blog post, one Flickr picture or one IG picture - links to general sites or profiles will be deleted.
Does my project need to be finished?
Can I enter more than one project?
We hope you will be so inspired by the themes that you will want to make more than one project, but we will only allow one entry per person – you can share as many projects as you wish on that entry – the more the merrier!
Submissions are on 15th of every month. As this is open internationally to everyone, we will open it from

14th at 10am GMT and

finish on 16th at 8pm GMT so that everyone has a chance to submit in their own time zone on the 15th.
When is the next theme revealed?
Themes will be revealed on 15th at 1pm GMT.
We would like the projects to be finished so that the next month we can move on to the next theme. It is not always easy, but we do not judge the projects (nor the size or the craft chosen) – so it could be easily one big project one month a smaller one the next if you want to enter every month a project. A quilt top will count as a finish, although a quilted one counts too!
The project must be finished and have been completed after the date the theme for that month was announced. You can enter a project you started at any time but it must have been finished after the theme was set. So if you started a quilt in 2012 and finished it on 24th Sept - if it links with a theme announced on the 15th Sept that's fine and you can link it up when the link party opens.
Please do not link projects you finished earlier than the date the theme was announced as that is not in the spirit of le challenge! We, and many of our followers, usually create projects within the time period the challenge was set specifically for the link party. Finished projects that fit the theme but weren't started with le challenge in mind are welcome though.
Please follow this rule and only link projects that you have finished AFTER the theme was announced. If your project was finished before the theme was set and you link up an old blog post or photo then your link will be deleted.


How will we choose the prize winner?
The aim is to have fun and discover how you and other crafters look at a theme, so we are not going to judge the projects – anyway it would be way too hard for us to pick one winner – so it will be done through random.org. For a chance, you only need to enter your finished project.
So what do you reckon? Are you ready for Le Challenge? The themes are announced on our blogs and Le Challenge blog.
We post inspiration on Le Challenge regularly so be sure to follow us.
Follow along by clicking the RSS box in the address bar, click to be a google friend or sign up for emails in the box on the right.
Grab the button for your blog and help spread the word!